The Ultimate Kickflip Guide!
Amb!quity
Ok first of all, how to properly do a kickflip, read the trick tip on the site! It's one of the best I've ever seen!
http://www.how2skate.com/tricks/kickflip.htm
!!
Short version
1) Start with your back foot on the tail and your front foot right under the bolts. Your front foot should be slanted just a little.
2) Bend your knees and pop your board.
3) Flick your front foot off the tip of the nose making it flip.
4) Suck up your legs for the catch. Try and keep your feet over the bolts.
5) Land and absorb the shock and roll away.
Here's a pic of my stance for a kickflip, I can land them really no kidding every try with this stance and was even able to kickflip 2 decks primo, so you don't really need to have your front foot back more for height =) (sorry for the quality)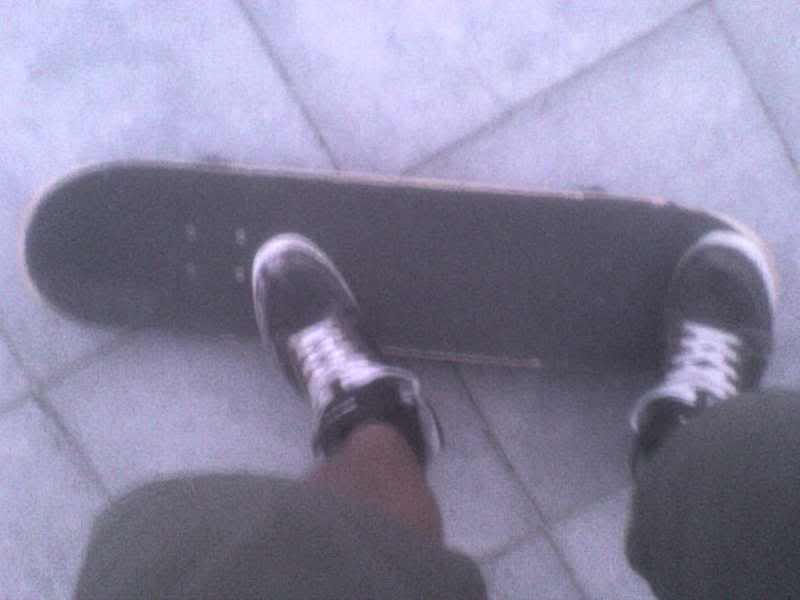 And here's a pic where you can see where your shoe should wear down when doing several tricks including kickflip. Although I'm not really sure about the heelflip one, could just be of my ollies
As you can see, the kickflip part is at the tip of your shoe. This is because of the flick at the very end that causes it to wear down at that place.
Then the troubleshooting:
Can't get front foot on board
Your problem could be that you're just not jumping and are just popping and slamming your front foot on the ground to get the flip.
Solution? When you're about to attempt a kickflip, think really hard about popping as hard as you can. Really try to "ollie" into the kickflip, first slide your foot up and then lightly flick OUT and not down! Doing all that might solve the problem. If that doesn't solve it, try to jump a bit to the side(left if you're regular, right if you're goofy).
Can't get back foot on board
You're either scared of landing or you're using your back foot to keep your front foot and board in the air. Focus on popping and keeping your feet in the air. You can't do anything else about this problem.
I can get the flick but it's too low
Pop harder and jump higher
Whenever I try a kickflip it goes into a varial kickflip.
Problem 1: Your backfoot is doing a shovit movement.
Solution? First of all, keep your shoulders parallel to your board! This is really important. Then make sure your back foot is in the same position as you would do an ollie! This is very important, it might feel weird in the beginning, but trust me it will make it easier. When you're sure your foot is in the right position, pop downwards like you do with an ollie.

Problem 2: Your front foot is pushing your deck forward when u flick it.
Solution? First of all, keep your shoulders parallel to your board! This is really important. Focus on trying to flick outwards more and not just straight forward.
I can flick it but my feet are in the way and my board touches them so it stops spinning
Jump higher and flick out a little more, that's all you can do.
I can flip it fine but when I land my body turned 90°
Keep your shoulders parallel, your trying to look forward too much, making your legs following your shoulders causing you to turn.
I can flip the board fine but I always hit the ground while the board is still spinning
You're just not jumping. Try to bring your knees as high as possible when trying a kickflip.
Try doing like this.
I can flip the board right, and i should be able to land them, but after i flip the board, i automatically move my right foot behind me, and my left foot in front of me
Your scared of landing. Try doing them into/on grass first until you're not afraid any more.

I can land a kickflip, but when i land, i loose balance and my board shoots out
Make sure that your shoulders are parallel to the board before the trick and during the trick. Then try to land with both feet on the bolts and not like 1inch from each other
When I try and go for a kickflip the board turns behind me
Maybe slide your front foot up the board more as you flip it so it levels out like an olie and stays under you. Also try to lean back more.
I can perfectly flip it, but I land on my heels and fall forward off the board.
Lean back more before you flip it. I had this problem myself and this solved it first try.
Perfect flip, but I land with my front foot on the tip of my nose and back foot in the middle of the board
You're popping it wrong, you're popping like you should pop a nollie or fakie ollie, that means you push it backwards instead of down. So all you need to do is pop downwards instead of backwards. You are doing this because you are leaning too much towards your nose, so lean more to your tail and you will probably solve the problem automatic. Again, had this problem myself.
When I flick my board shoots out in front of me and if I flick lighter my board doesn't flip enough.
That's probably because you're dragging the board too much with your front foot. You're probably flicking at the tip of the nose. Also make sure you are only flicking with your ankle and not your whole leg.
Try sliding and flicking it gently of the side of the nose. Check the picture of the slide area!
theskater
what do you mean whit your foot i cant do a kickflip
papajama
when i do this me board goes foward :(
cazzler1
papajama you can forst do kickflip on greece
Amb!quity
[quote=papajama] when i do this me board goes foward :( [/quote] That's probably because you're dragging the board too much with your front foot. Try sliding and flicking it gently of the side of the nose. You might be doing it too much in the middle of the nose. As you can see in the actual topic: [img]http://i103.photobucket.com/albums/m159/_AmbiquitY_/kickflipslide.jpg[/img]
Simo
Hey, please help me with this one! ! I can land kickflip but the bad thing is that my feet land right on the middle of the board... My deck allready snapped in the middle and i keep it alive by duck tape. Can you guys tell me whats my freaking problem... I dont want to break my new deck... Pls help! :S :(
Amb!quity
Well.. I guess just try to keep your legs spread =P I don't really know why you'd land in the middle of the board.. Maybe some one else knows?
Einis
Okai, i can kickflip sometimes, but i mostly loose my balance because i land in the position i started in. Any tips?
christian1894
good tips :)
cortez
man how i do an quad flip?(quadruple kickflip)
Amb!quity
"Skateboard history i skate for 5 months, street skate ,and some vert, but i prefer to skate street, im rockin with hoho plants lol" =%3E Cortez Ok dude, you shouldn't be trying quad flips after 5 months. You should practise your basics. Can you like even double flip?
JOIN and get FREE skateboard stuff!